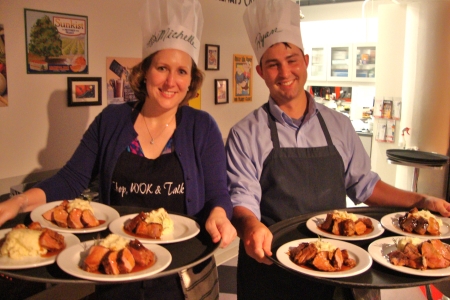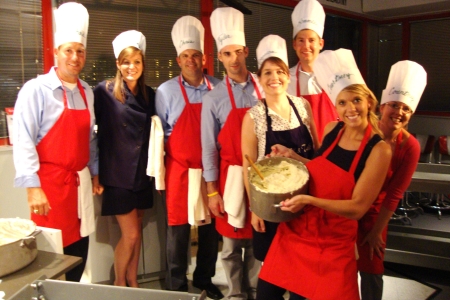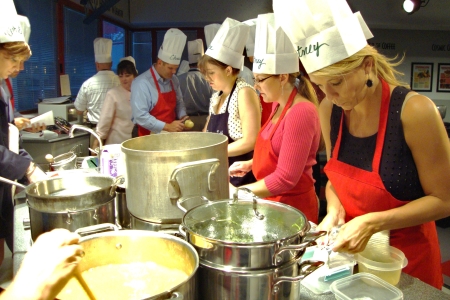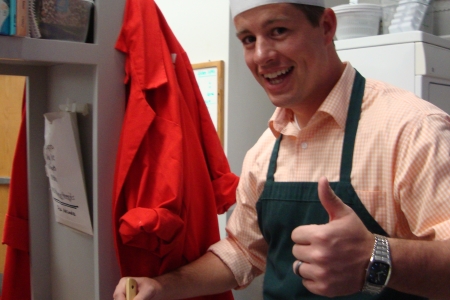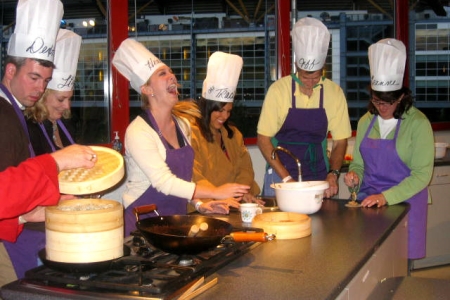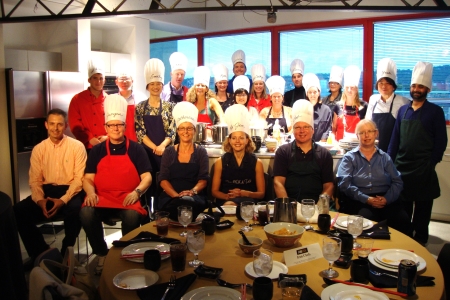 Providing a sense of "camaraderie through cuisine"!
Join the list of corporations including those below who have/are using the 'cooking experience' for team building, fun and good food!  
4-MOMS
ABB ICM
Accredo Health
Central Data Services
Advanced Industrial Minerals
Alcoa (5)
Altria
American Eagle (3)
Ameriprise Financial
Ansys Inc. (2)
Bain of Chicago
Bayer Corporation
Blue Belt Technology (5)
BNY Mellon (2)
Bombardier Transportation
Caesars Entertainment
Carnegie Mellon University (8)
Chubb's Insurance Co.
Cisco
Comcast
Covidien
CVS Caremark
Deloitte (3)
Dick's Sporting Goods (3)
Direct Energy (2)
Evolve Environment: : Architecture
Family Foundations (2)
Fresensius Medical Center
Genetech
GNC
Goodwill of SWPA
GlaxoSmithKline (3)
GNC
Google (2)
Highmark (6)
Ingram Barge Company (3)
Jones Day Law Firm
K & L Gates
LanXess (6)
Leeds

Liberty Mutual Insurance
Liberty Travel
Manor Care
Matthews International
McKesson Canada (2)
Mine Safety Appliance
Mylan (2)
Net Health Systems
Nova Chemicals
Novartis
Omnyx, LLC
Philips Respironics (5)
PNC (5)
PPG (2)
Presbyterian Senior Care
Principal Financial Group
Repsol
Robb Leonard Mulvihill Law Firm
Schneider Downs & Co. Inc.
Seubert Associates
Sister's Place
Starkist
State Farm
Strassburger, McKenna, Gutnick & Gefsky Law Firm
Talisman Energy USA (4)
Target
Trinity Consultants
United Bank of Virginia
University of Pittsburgh (2)
UPMC (7)
VA Credit Union
Verizon
Wells Fargo Bank
Westinghouse (5)
Wounded Warriors
Choose one of the following cuisines:  Chinese, Thai,  Vietnamese, Moroccan,  Tapas,  Italian,  Tex-Mex  or American-French.
Participating in our event provides the following:
An atmosphere to energize and excite your team
A healthy risk-taking environment
Encourage networking, mingling and building rapport
Incorporate problem-solving, speed and work ethics
provide an atmosphere for communication, collaboration and leadership
have fun and enjoy good food with your co-workers
Small Group Team Building (held at Chop, WOK & Talk!):
6-12 participants can have a three hour session (5 dishes) for $75-$80 per person depending on the cuisine chosen
Class is held at the Chop, WOK & Talk cooking school (5404 Penn Ave, Pittsburgh, PA 15206)
20% gratuity is added for the help of my assistant and there is no sales tax as this is not considered a lunch/dinner.
Medium Group Team Building of 13-25 participants:
The event can be held at SIGMAS CONFERENCE CENTER in the North Hills.

$500.00 rental fee and $250.00 for a bartender but you can bring your own wine/beer.  They also provide soft drinks, coffee & tea.
Large Group Team Building of 26-40 participants:
Your event can be held at the 'new' THE KITCHEN BY VANGURA in Irwin. 

This is a state-of-the-art kitchen where each group will have their own cooking station complete with stove, oven, dishwasher, plus all utensils, pots, pans, etc.  Rental fee is $1200.00 and it is BYOB.

 I will be happy to e-mail you a video of this premiere kitchen…the best the tri-state has to offer!
In addition to the rental fees (see above) Chop, WOK & Talk! will charge $100.00 per person for a 5 course meal plus 20% gratuity.  There is no sales tax as this is considered an event rather than a dinner.
Chop, WOK & Talk! will provide:
A script, aprons, side-towels, name tags, chef's hats, a chef's coat for each team's 'head' chef, all ingredients, equipment & utensils, a rating form, a 'foodie feud game', gift certificates, and an award to the head chef of the winning team.
Please call 412-362-0679 for more information, dates, and menu selections.